Every Indian is well aware of the witty and comic side of Former Indian cricketer Virender Sehwag. He has outdone everyone's expectations on his Twitter account which is a magic portal full of funny stuff in itself. His birthday wishes are some of the most talked about content on Twitter which absolutely make him Twitterati favourite.
He also likes to address the funny mistakes and viral content on the Internet. So, when a UAE-based website mistook MS Dhoni for Sushant Singh Rajput, because of the recent film, and collaborated his photo with Virat Kohli as the new captain of Indian cricket team, people on the Internet lost it. They decide to call out the website for their mistake and had their little fun with it.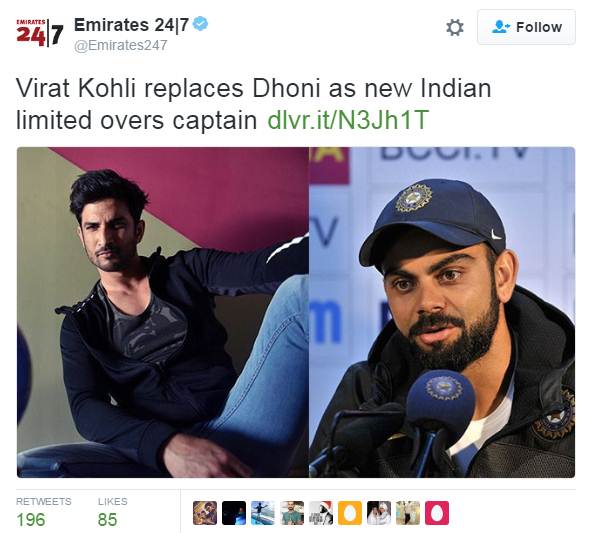 Now, Virender Sehwag can't take shit from his fellow team members, which is why he came forward with a funny tweet. He mentioned that he hopes that the people on Emirates don't allow someone else in his place and posted a picture of someone who does kinda resembles Sehwag.
But there was a mistake, Sehwag mistook Emirates 24/7 which is a media website, for Emirates the flying company. The official Emirates airline was quick to assure Sehwag that they know him and would never do a mistake like this one.
So, the king of trolling, on his way to troll a website, got trolled instead. People on the Internet were quick to see it and had their own way with Sehwag for getting confused between two twitter accounts.
#1
https://twitter.com/AltafQadriAP/status/818049753607012352
#2
#3
https://twitter.com/dharmubaba/status/817734752061050880
#4
https://twitter.com/KatappaOfficial/status/818006705967534080
#5
#6
https://twitter.com/akbhagat_says/status/818113751794720768
#7
https://twitter.com/KatappaOfficial/status/818007586947502080
9 Jan 2017
Jyotsna Amla